A Message for My Readers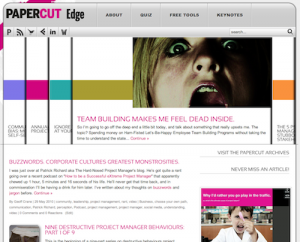 I love my blog, and I hope it shows. When you come here, I want to make sure you find useful information that will help you manage your projects. I also want to entertain you, have some lively discussion and give you a place to maybe meet like minded people. More and more people are joining us here at Papercut Edge every day (it's very exciting)! If you're here on my site, you've already seen this, but for those of you who only get Papercut articles through your readers (thanks for subscribing, by the way, it means a ton to me!) I've cleaned up a little bit.
I've incorporated jQuery and rich media into my site, and am already working on finding new ways of interacting with you. I'm still kicking cans around but beyond just video and snazzy lightboxes, I'm working on interactive simulations, educational games and other nifty stuff in my posts that'll hopefully keep you coming back for more.
So even though I might only reach you via my RSS feed, stop by the site every once in awhile! Kick your shoes off, get comfortable, and enjoy yourself! There's lots to be had!
I went shopping, so the fridge is fully stocked. 🙂
Related articles by Zemanta