Communication Bias: Message Self-Serve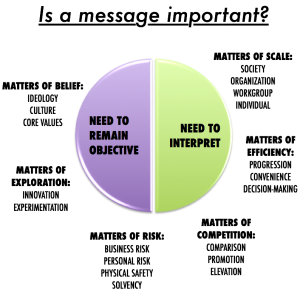 Today I want to talk a little bit about communication.
I came across a piece in the news recently that gave me pause enough to want to check multiple sources. Mine is not a political blog, so I will refrain from injecting my own opinions. However, I thought this would be a fabulous opportunity to discuss something we see in project environments all the time. I'm talking about "communications spin".
Bias in communications isn't new. Every message provokes two things: the need to remain objective (view the message in isolation), and the need to interpret (place the message in a context). The two are not compatible by default: it can take a lot of work to maintain a balance between the two.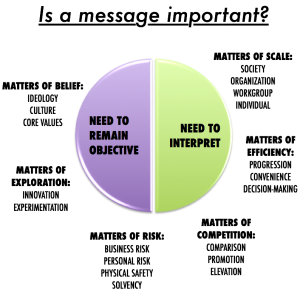 That balance is often hard to maintain because every message comes in a small capsule floating on a churning sea of opinion. I've tried to show some of the matters that affect both objectivity and interpretation in this diagram.
The news story that prompted me to think about this is an emotional one, and I'm posting it here (that's my contribution to further distributing the story without actually politicizing my blog–and yes, that's called an unabashed cop-out /armflex). To demonstrate my point, I've taken corresponding messages from two news pieces on the same story with the same date, and put them side by side. This allows you to see differences between the tone, level of detail, and effective intent behind each message. At the bottom of the table I've summarized my perception of those differences. When you look at each story, ask yourself, "based on the information the news source gave me, is this message important?"
News Source:
CNN (American)
News Source:
BBC (British)
Date of Report:
May 22, 2010
Date of Report:
May 22, 2010
URL:
Texas OKs school guidelines after ideological debate
URL:
Texas schools to get controversial syllabus
Event Report:
Event Report:

The changes to the Texas State Board of Education curricula regarding social studies provoked an ideological debate.

Critics say the Texas State Board of Education's new curricula will politicize teaching.

The Board was split 9-5 in favour of the new standards

The Board was split 9-5 in favour of the new standards. The Board is dominated by Christian conservatives.

Conservatives seek to bring "balance" to the new curriculum

Critics claim the changes distort history

Proponents claim history has a "left-wing tilt"; the intent behind the move is to restore balance.

Proponents are redressing a liberal bias in education.

Texas' decision in this regard should not impact the rest of the United States.

Texas' huge population has substantial influence over what gets printed in children's textbooks for the rest of the United States.

Report on Accepted Changes:
Report on Accepted Changes:

Students will get to discuss the "solvency of long term entitlements such as Social Security and Medicare.

There are perceived inconsistencies between "separation of church and state" and the protection of religious freedoms that students will get to discuss.

There will be a direct reference to the election of President Barack Obama.

Students will be taught that American ideals benefit the world.

Students will be taught that the United Nations may be a threat to personal freedom.

Students will become familiar with the "political philosophies" of Thomas Jefferson.

Thomas Jefferson (the Founding Father who developed the notion of separation of church and state) is off the list of world Enlightenment thinkers.

Report on Dropped Changes:
Report on Dropped Changes:
No mention.

The term "slave trade" should be renamed to "Atlantic triangular trade"

On-page link to related story:
On-page link to related story:
None.
Further changes

"Capitalism" will be renamed to "free enterprise system".
McCarthyism will be toned down.
References to past Mexican/American segregation in American schools will be eliminated.

Presentation of this report:
Presentation of this report:
The CNN report appears to be tepid and brief. It prefers words like "balance" and "correction". Regarding the changes to Thomas Jefferson's history, the language suggests a newer, more complete inclusion of facts. My perception on reading the article is, there was some heated debate, but it's settled, and this really isn't news. I do not perceive this message as very important.
The BBC report on the other hand is very pointed. It uses words like "redress", "distortion" and "politicizing". It offers details that the CNN report omits. Regarding the changes to Thomas Jefferson's history, the language suggests a serious revision of history. Between this report and the earlier one linked from the same page, language in the curriculum is to be neutralized, in much the same way "genocide" could be called "ethnic cleansing". I personally perceive this message to be very important, frightening and also dangerous (score–personal opinion stealthed in at the end).
Ideology notwithstanding, I hope the above table demonstrates how easy it is to bring a message out into the open, or sweep it under the carpet depending on the matters you feel you're serving by doing so. In a project context, this is a very tough problem.
Every individual working in a project setting brings with them their own context. When communicating a message, how do you choose what matters to serve, and what matters to neglect? Consistent metric reporting helps alleviate some of this onus, but even this reporting method is prone to skew.
Take a look at your reporting style the next time you present to your project stakeholders, and give some thought to the above. How is your objectivity vs. interpretation?
By the way, you'll notice I haven't offered any "how-to" in this article. That's because I think ultimately, how you communicate a message boils down to a personal integrity check.
Related articles by Zemanta
If you liked this article, and have your own thoughts on project communication, shout them out in the comments section below! And if you felt my article actually contained some thought-provoking elements, please share it, and subscribe to get free updates by e-mail or RSS!