Help with PMP Self-Study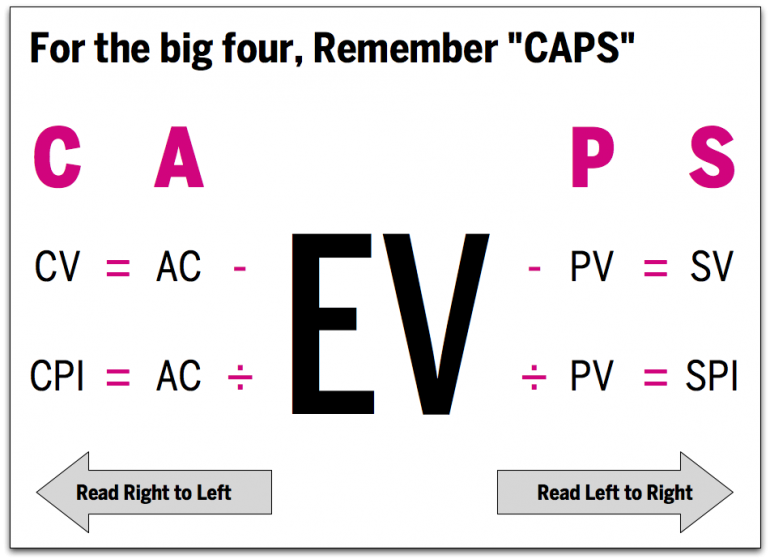 Before the knowledge I inhaled over the weekend evaporates forever and I'm left a shell of a man, I thought I'd write down my thoughts on preparing for the PMP exam. If you're gearing up for it, some of what I say might be helpful (or not). The best I can give you are the areas I found myself to be weak on, and offer a few tips on how to improve.
Remember Earned Value Formulae
Okay, so this was the big thing I was worried about. My brain functions like an open window. You can put things in it, but if you do, you better bolt them down. I'm pretty (as Derek Huether was so kind to demonstrate last night on Google+), so it's not my nature to remember hard things like math. To resolve this, I made the following slides. The first one, "CAPS", was sent to me by a friend, who got it from someone else so I'm not sure who to credit it to. But it's very good. The second one, the EAC mnemonics, was my own creation. Mock me if you will, but they worked.
Click for a larger view.
The first thing I did on entering the exam was to gush them all down on the paper provided.
Know the Different Process Groups and Knowledge Areas
Sadly I had no easy way of remembering this matrix, so I had to just memorize the damn thing until I could vomit it out on command. The bitch is, it's not just the grid you have to memorize. You need to know all the inputs to and outputs from every. Single. Freaking. Process. Most of them are fairly common sense, but some are counterintuitive. In the practice exams I took, there were a lot of questions designed to knock you off your perch with these. Learn them: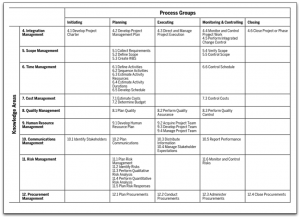 What was helpful was a checksum. 2,20,8,10,2. Those are the counts of processes in each process group reading down. Recreate the matrix on your paper when you arrive. If you can remember the checksums, you'll know if you missed anything (it'll be up to you to figure out where).
[Update: Mark Phillips of Vertabase was awesome enough to congratulate me via e-mail (thanks, dude!), and pointed out that if you can also remember the checksums across this grid, 6,5,6,3,3,4,5,6,4, then you'll know exactly in which cell of the matrix you missed an item. I found it a bit hard to remember all those numbers personally, but if you can do it, it's more security for you!]
Know the Difference Between Quality Assurance and Quality Control
Okay, I know, "duh", right? But when I was taking practice exams, this bloody thing kept tripping me up. Quality Assurance belongs to the Executing Process Group, and is something you do to verify that work is proceeding with quality processes. Quality Control belongs to the Monitoring and Controlling Process Group, and is something you do to validate the quality attributes of deliverables. Think of Quality Assurance as an evaluation of HOW you perform work, and Quality Control as an evaluation of WHAT your work produces. If you get questions relating to HOW or WHAT you're checking, then you know which process group and associated techniques you should be thinking of.
Know the Difference between Close Phase / Project and Close Procurements
Another "duh". Or so you'd think. There's only two processes in the entire Closing Process Group, and they have similar activities but different purposes. The PMIs gotta grade you somehow. Spend a bit of time and really make sure you know the details of both so you don't confuse them.
Know the Steps of the Procurement Management Knowledge Area
For example, selecting your vendor does not happen during the Planning Process Group. You might think it would, since your vendor hasn't started work yet, but you would be incorrect. "Conduct Procurements" is part of the Executing Process Group.
Know the Different Diagramming Techniques
Brush up on these, and spend time focussing on keywords. For example, if you see "cause and effect", you should think "Ishikawa or fishbone". If you see "control limits", you should think "control chart". Any other information you're given is likely irrelevant.
Suck Up Some Random Facts
After I was done the bulk of my studying, I hoovered areas I felt I was weak in from the practice exams. Some of them included:
details of the different estimating models
details of the different contract types, especially CPIF because it's funky
friggin' Net Present Value (ugh)
details of Forming, Storming, Norming, Performing, Adjourning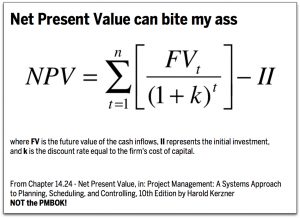 The nice thing is none of these individually take a lot of time to research, and they're not that hard to remember. Once you hit the exam, though, if you don't know something, you don't know it–all you can do is take a wild guess. Spending a bit of time jamming these items into your noggin can make the difference between "below proficient" and "moderately proficient" at test time.
Take a Hard Line on Ethics
During the practice exams I often encountered questions where I was like "what?! Are you on glue?!" I also found some of the answers to practice ethics questions inconsistent until I figured out the pattern. Basically, you do what's right. The tough part of that is a lot of practice questions offer plausible shades of grey. Here was my rule:
If it's racist, sexist, discriminatory or involves something that smells like human rights, it's WRONG. If it involves destruction or some kind of deliberate harm to people or property, it's WRONG. You do not need to check with other people, stakeholders, authorities, the U.N. or your mom. WRONG is WRONG.
If it's NONE OF THE ABOVE, but feels creepy, it might be okay if you're a) following the laws of another country or b) following the customs of another country.
Whether the correct answer represents what you would actually do in a given scenario is irrelevant.
Free Online Practice Exams
Without these, I would have failed, I'm absolutely certain. Practice exams give you a chance to find out where you're weak, and go away and study those select areas without having to waste time reviewing things you already know. I found a couple really fabulous ones, and I'm listing them below:
Exam Central. This is a great site. They offer a question pool of 1059 questions, randomly presented. When you're finished, you get a total analysis of where you stand in all six aspects of the exam (Initiating, Planning, Executing, Monitoring & Controlling, Closing and Ethics). The only downside is, you have to wade through 200 questions before you get accurate grading results. You can grade before you're finished, but your score will count all unanswered questions as wrong. This site stores all the practice tests you've taken, and you can go back and review them all at your leisure. You have to provide your e-mail address to log in.
Head First Labs. I really liked this site as well. They only offer 200 questions, which is a problem–once you know the answer to that question, there's not much point doing it again. They have both a PDF of all their questions, and an online scoring system. The online one is great because you can field as many or as few questions as you want at one time. That's perfect for fast feedback!
Oliver Lehmann. On first glance, this site only offers 75 sample questions that are useless to you once you know the right answers. But this site has two very important things going for it. The questions are hard. You really have to think about each one. Even better, the site provides references for all of the texts you need to be able to learn the correct information. If you're not sure of something, this site points you directly to the source material. This is highly invaluable because not everything on the exam comes from the PMBOK. If that's all you study, you'll go in with knowledge gaps.
Well, that's about all I got for you. It's not a hugely organized boot camp, just some of my own ramblings from after stuffing my head until it oozed over. I hope you find it somewhat helpful in your studies. If you do, please feel free to forward this around to anyone you know who might be gearing up for the exam. Good luck, everybody!