How Relevant is a PMP?
About a year ago, I wrote an article called "Is the PMP Losing Its Value". To date, that article remains the most commented-on piece on this blog.
This year, I wanted to revisit that article, for a couple reasons. Firstly, I know this subject rankles Derek Huether and I derive perverse pleasure from getting under his skin (because his blog is better than mine). Secondly, I've seen this same conversation recently in LinkedIn discussion groups. In fact, the one I'm thinking of was started in February of 2011, is still active as of this publication and contains over 1692 responses. It's a subject that gets under a lot of people's skin, apparently.
But one of the things that stands out to me, are the sheer number of people who insist that the PMP is nothing more than a gateway into the field of project management. Frankly, I don't think that could be any further from the truth.
The PMP is a lot of things. Different definitions are appropriate to different groups of people. What's even more important are the different purposes the PMP serves. And that's what I'd like to write about today.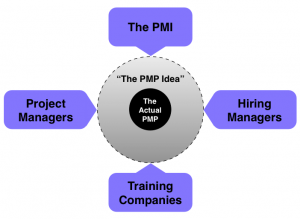 The diagram at right demonstrates different groups who revolve around the certification, each of whom have a particular view. Does the PMP serve the PMI in the same way it serves a hiring manager, for example? I would say no. What about a training company that offers preparation material to pass the PMP exam?
In fact, if you sat down to think about it, you could probably write down several different definitions for what the PMP is, depending on one's point of view. These definitions could range from fully altruistic to fully self-serving. I think these distinctions are important, especially for an aspiring project manager who must make the decision whether or not to get certified.
Possible Definitions of the PMP Certificate:
| | | |
| --- | --- | --- |
| | Altruistic | Self-Serving |
| The PMI | An acknowledgement that the PMP-holder is versed in the very basics of modern project management techniques. | An offering, when combined with membership fees, examination fees and fees for companies who want to offer PDUs for PMP-holders to maintain their certification, makes a lot of money. |
| Hiring Managers | An indication that a candidate possesses a vocabulary common to the project management body at large and, in conjunction with other factors such as experience, may be suitable for a PM role. | A screening factor that makes the tasks of reading candidates' resumes and carefully matching experience to position unnecessary. |
| Training Companies | A goal toward which the training company can help aspiring PMs reach. | A certification frequently linked to higher salaries that the training company can use to lure prospective students. |
You'll notice I've left project managers out of that table. That's because before PMs can choose to certify, they must first justify to themselves why certification is a good idea. Essentially, that means embracing one of the definitions in the table above.
Does one get a PMP because:
They want to learn the basics of project management and thus broaden their knowledge? Perform better in their jobs?
They believe if they don't get a PMP they'll be screened out when applying for jobs they might otherwise qualify for?
They believe the hype that becoming a project manager will make them a lot of money?
And do the reasons even matter?
In the discussion at the end of this article I gripe a lot about the PMI's ability to properly audit a decent proportion of their applicants. Looking at the 2010 numbers of new PMP holders, there's between three and five thousand new PMPs every single month. Let's assume for a moment, due to these volumes, the PMI can't effectively ensure their application and experience requirements are met. Doesn't that leave one's motivation as the primary factor that will determine whether or not the knowledge gleaned from the program will go in one ear and out the other? Motivation can't reliably be measured, of course, so the PMI relies on PDUs to ensure lifelong development in the field. If you have the money, PDUs are pretty easy to get.
I guess, to all those so adamant about their definition of the PMP, I'm trying to say the PMP doesn't exist in a vacuum. And the PMI isn't the only one making promises to prospective certificate holders. There are other influential definitions out there, that I think have a direct impact on the quality of learning that takes place during certification.
What do you think?