New Ways to Stay in Touch, and a Free Ebook!
A webmaster's work is never done. In my quest to constantly improve Papercut Edge, and make more resources available to you, I do a lot of work on the backend too. I've recently opened an account with aWeber, so that I can provide special offers, exclusives, freebies and other nifty things to those folks who regularly read my articles. When you come to this site and read, you're completely validating all my hard work! It seems only right that I reward you with more than just an RSS feed.
From now on, when you opt to join my rapidly growing community here, you'll get the following:
Every time a new article appears on Papercut Edge, you'll receive an e-mail notification. (If you're already subscribed to my site via Feedburner, it's okay to unsubscribe from there so you don't get duplicate e-mails).
Special behind-the-scenes peeks into Papercut Edge. As a subscriber, you'll get extra stuff that doesn't go on my blog.
First-serve access to giveaways and contests, and other cool stuff, before I put them out into the world.
A free copy of my new ebook, "Nine Destructive Behaviours", with a foreword by Derek Huether,

pmp, csm

. He's the author of The Critical Path, and it was an honour for him to provide his stamp of approval.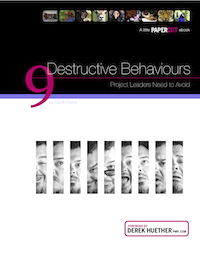 If you're already subscribed to me through Feedburner, that's great. If you'd like to get the inside scoop on what's happening here, please head over to my form page and sign up for even more (including my new ebook)!