Papercut Gets a New Website
On August 11th I told you about some of the efforts I had underway to increase my presence and fill up my client list for September. I'm excited to unveil my latest attack at my website, which is meant to align with my blog and brochure. I liked the old site but I got a lot of feedback to suggest that folks didn't quite "get what I do". So it's been completely revamped, with new case studies and testimonials, and a more direct presentation of my consulting services.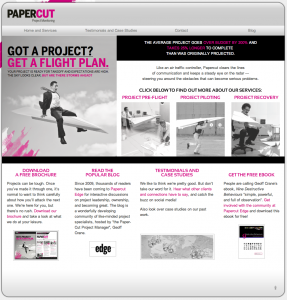 I'm very pleased with this one, but would welcome further feedback from folks on whether or not my services are clear enough.
My goal is to fill up my client roster in September with clients in the Cambridge / Kitchener / Waterloo area and Greater Toronto Area of Ontario, Canada. Feel free to pass on the link to anyone you know who might need some help! I do offer referral incentives (*cough* $$$ *cough*) so don't hesitate to ask me about those either!