I've been getting a lot of e-mails asking where I've been for the last several months. It's a long story. Suffice it to say, after I graduated I got a lot of interest in the thesis paper I wrote last year. For awhile, the paper even led to a great consulting gig through the summer (which helped pay off my tuition–ack!). However, good things come to an end, so I started, once again, back on the job search track.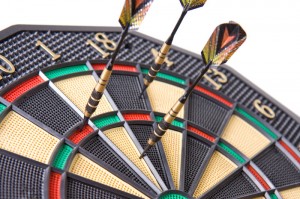 That part hasn't been roses.
In this economy, job opportunities are tough to find. When I did find some, I considered myself lucky if I got picked up enough to start down the interview process. Unfortunately, either the positions went to someone else, got scrapped altogether, or in one case, months have gone by and the hiring manager "can't make up his mind".
If you're in the job market right now, all of the above might sound familiar. It's frustrating for sure, but you can't let it get you down. One thing going back to school in mid-life taught me is that life is full of rich possibilities. You sort of forget that after living so many years with bills and routines and same old-same old.
So if you feel you're stuck in a rut and have forgotten about the promise life has in store for you, maybe it's time to sit down and re-evaluate the goals you have for yourself. From there (as any project manager knows), it's a simple matter to develop a plan.
Here's mine:
I'm going to keep going with school, pursuing a Master's degree in Organizational Behaviour. I plan to do some serious research in the field that will make a difference in the way we work. I've met someone and I want to get married and build a fabulous life for ourselves. And while I'm doing all those things, I want to get back into a career so that I can pay for all of the above!

Life is rich, but it's also short. I refuse to be distracted from it by a futile job search.
Once you're back in touch with your objectives, all it takes is a little creativity to come up with a solution. What's mine you ask? You'll just have to come back tomorrow. The answer may make your jaw drop.
I'm Geoff Crane. After 22 years in the trenches of a lot of tough projects, I decided to change direction a little bit and focus on sparking ideas in the vibrant field of project management.

If you're a project manager, or even if you're one voice in the project choir, you are in a position to be truly remarkable. Without exaggerating, you have within you the capacity to change the world, just because of who and where you are!