The Guerrilla Project Management Podcast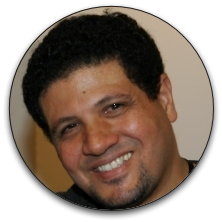 Recently I had the absolute thrill of being a guest on Samad Aidane's Guerrilla Project Management Podcast. First of all, I'd like to say that Samad is one of the warmest and most welcoming people I have met on social media, and I'm absolutely thrilled to be connected to him.
Samad took great pains to make me feel comfortable as I was a little nervous about the whole thing. Sometimes I feel I sound like a valley girl on helium when I hear my voice played back to me. Samad's kind demeanour put my fears to rest and he gave me lots of opportunities for breaks and retakes if I wanted them. (Mostly we just plowed through…I felt very relaxed.)
Samad asked me some very pointed questions, and I was amazed how thorough he was in preparing them. He'd clearly read all my posts and asked me questions I really had to stop and think about. All-in-all it was a genuinely fabulous experience!
Head over to The Guerrilla Project Management Podcast and have a listen to our interview together.
While you're there, subscribe to his podcast and download his other episodes. He has great material and is very well researched.