The Hiring Manager Black Hole
So I've been looking rather unsuccessfully for work lately and one of the things that's been really gnawing at me is the human resource black hole. We all know how it is…you contact an employer about a job and then never hear back. Recruiters are incredibly busy people so despite being out of work, we know not to take it personally. Conventional wisdom tells us, "chin up, keep trying, the next job is out there, you'll see."
At the end of last year, I started talks with a firm about a position with them (that appeared to be a fabulous match), and they were keenly interested. We had one interview, and then a phone call during the first week back after the New Year to say "we still really like you, can you come back?" This was followed by another interview, and then the promise of yet another interview with the senior partners. This was followed by…nothing.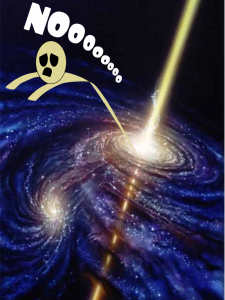 Because things had gone so well and so smoothly to that point, I decided to wait. At this point, if they weren't interested, or there'd been a change in requirements, surely they'd tell me so. Well, after a month of waiting, I started to get concerned. I pushed the recruiter who originally made the connection to find out what was going on. The answer was…no news. Absolutely no information. I understand the other candidates the recruiter put forth are similarly in the dark. To date, four months later, the position in question is still advertised as open and unfilled on the hiring firm's website…but they're not talking.
As I follow this particular firm with interest, I've seen that there's been some changes at the senior management level recently, so I'm not surprised that there may have be a freeze on hiring (although that's speculation). My frustration in this particular case has been the utter lack of communication, when things had progressed so well and gone so far.
Of course this hasn't been my only iron in the fire. I've approached and been approached by other firms as well, and gotten to the interview stage. In one case the interview (with a top tier bank) was a disaster…I was double booked with another candidate, and when I finally met the hiring manager, he thought I was a Java developer (I'm not). After that confusion was resolved, he then told me he wasn't actually hiring senior managers…just wanted to meet senior managers in the area in the event he wanted to hire one someday (that wasn't the original communique). So no surprise I've heard nothing further there.
In between, in addition to my own pursuits, other firms have approached me for my cv, and then gone quiet.
To say I'm getting frustrated is putting it mildly.
Last year I wrote a piece for The Camel about why hiring managers are so dysfunctional. Nobody understands more than I do how difficult it can be managing the influx of interest for one or two positions. I also understand it's just not possible to reply to every single applicant. But seriously? This is getting ridiculous.
So I looked around in the blogosphere and found out I'm not alone. Candidates and hiring managers alike are frustrated by the process that is recruitment. Hiring managers aren't 100% sure what they're looking for, so they rarely relay their requirements accurately to the human resource professionals tasked with screening candidates. Systems that are designed to capture potential candidates perform keyword scanning on freeform applications, which may or may not be accurate. Poor communication between hiring managers, human resources, and the candidate base results in decisions getting made without the awareness of others involved in the process.
It's a mess.
I'm not going to purport to have the answers to all of these problems, because there's really just too many of them. I do know, though, that if you keep communication lines open, the world tends to be a much better place. So I'm going to put out a few challenges to everyone involved in the hiring process, and ask if you're doing all you can to keep the lights on:
Hiring Managers: Are you being crystal clear about your position requirements? Are you keeping those helping you informed about any changes to your needs?
Human Resources: Do you fully understand your hiring managers' requirements before you publish an ad to the job boards? Are you working with your hiring managers and taking ownership of the matching process? Are you keeping candidates that have had at least one interview informed of where they stand?
H.R.I.S.: How effective is your matching software? Do your matches result in happy pairings between hiring managers and candidates? Do you have tools to help HR professionals inform large numbers of unsuccessful applicants that they haven't been selected?
Recruiters: Are you actually reading the profiles of your candidates or are you calling them based on a keyword match? Do you spend time getting to know both your candidates and your clients? Are you keeping both your candidates and clients informed of changes to either availability or need?
Candidates: Are you only applying for positions where you feel you can add value? Are you grateful for a "no, thank you," or do you push your luck and make life difficult for the people you want to help you?
The hiring process is a long chain, and it only takes one break to knock out all the lights. Please do your part to help keep them on.