Zombie Project Management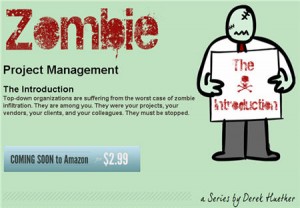 I just found out that one of my favourite bloggers, Derek Huether, is releasing his book, Zombie Project Management. I'm very excited.
I've been following Derek for over a year now. He started writing about zombies fairly recently. "They're among us, working on our projects," he says. "But don't judge them. They don't know what they're doing." In a recent interview at the WorkOut 2011 conference in Utah, he said "zombies are only motivated by brains. Neither the carrot nor the stick have any effect." I think it's a great metaphor for managers who forget they're working with people. It's a sad fact nowadays that so many companies treat living human beings as materials to be kept or discarded. We even call them "resources".
Derek will release his book in a series of chapters for the Amazon Kindle at just $2.99 each. Keep an eye on this space and support his writing efforts. It's a lot of work creating good content for you hungry lot, and Derek has that in droves!