Updates and Stuff
This post is for my regular readers who've been following my tribulations over the last few months. It's been kind of eventful, which surprised me. For the last two years my life has moved at a snail's pace. Stuff happens here, stuff happens there, but nothing's really been accomplished. Blogging's been pretty much the only thing that kept me sane but other than that getting any kind of professional traction has been like solo climbing Mount Everest with a screwdriver. Not very effective, and with a lot of setbacks.
I go back to school, and suddenly I don't have five minutes to breathe! LOL (Trust me, that's not a complaint!)
First of all, I got my hair cut. It was really about time as birds had begun to nest. My good friend Greg May who's been cutting my hair for years invited me to appear on his YouTube makeover show. I spent most of the time trying to crack Mr. May up. He did a very good job keeping a straight face as you can see:
My Communications professor gave me an assignment to write a portfolio of letters, and a recommendation report. I've been writing this sort of thing for years, so those went very well. One of the letters was a letter to the editor. On her advice, I submitted it to the local rag, the Peterborough Examiner. Not only did they run it on August 2, 2011, but they bumped it up to the Editor's column! LOL The staff photographer came and took my picture and everything. So that was kind of fun! (Now to wait for all the hostile responses hehehe)
Click the image below to read the full article. It's a damn good thing I got my hair cut, eh?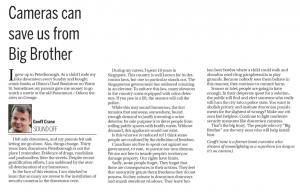 And then suddenly, out of the blue, two of the free tools on this site have received some crazy attention. It's preliminary yet, so I won't say who has approached me, but I've been asked to redesign the Big Granddaddy of Excel Project Tracking for a large but specialized audience. The folks in question need tools that speak to the core of project management, which means they need more than just a simple issue log or charter template. But they don't have the savvy for Project, and don't have the resources for Primavera. So they're exactly the kind of folks I originally designed the workbook for!
A reader also wrote in and enjoyed my Capacity Planning for Multiple Projects workbook very much, and has suggested many improvements, which I'll be working on over the next month or so to republish. She intends to actually use it for her work as a portfolio manager, so that was very exciting to hear.
Finally, I thought to myself this morning, "Hey! Since the PMP exam is changing, and it would be good to finally get, why not book it sometime towards the end of August?" That would give me a few leisurely weeks to prepare. Well, it turns out everybody else in the world thought the same thing. There is absolutely nothing available until mid-September. Fortunately, I was able to get in on a cancellation. The downside is, that opening is for this coming Monday at 9:00am. EEK! I'll let you know if I pass or if it's a ego-shattering catastrophe and I find myself staring at a giant "FAIL" on the computer screen when I finish. (OMG wouldn't that be embarrassing??!!)
I'm still working on a chapter of a textbook, which I have to finish this month, so then I'll be, like, an actual published writer, and stuff. Which is very cool.
Finally, of course, there's been school. In six weeks, I've completed two half credits. So that's one full credit less I have to get through to finish my degree. Now I'm only three full credits away! Incidentally, I've worked out the math. I'm expecting final grades of 98% in Communications, and 90% in Psychology.
And…through all of this, I sorta met someone. Sorta. Maybe. Or not too. LOL *blush* 🙂